Lighthouse Cove is the premier active adult waterfront community located on the Central East Coast of Florida directly along the Indian River Intracoastal Waterway and the wetlands and woodlands of a portion of unspoiled Florida. This unique area provides a small town atmosphere and a truly relaxing lifestyle, with city conveniences nearby. Not only will you enjoy the pleasant Florida weather year round, but you will be able to experience the beautiful surroundings, numerous golf opportunities, copious cultural events and some of the greatest boating and fishing ever.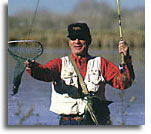 Florida is justly renowned as a fisherman's paradise.
This area initially began commercial fishing in 1908 and is classified as a Class II shellfish harvesting area. The Indian River Intracoastal Waterway is adjacent to the famous Mosquito Lagoon, Cape Canaveral National Seashore and Merritt Island National Wildlife Refuge. The inland waters of the Indian River and Mosquito Lagoon are one of the most well known unspoiled fishing destinations in the United States and feature varieties such as Redfish and speckled trout. The waters adjacent to Lighthouse Cove offer phenomenal shrimping as well. The art of shrimping is usually done at night with the use of a dip net and lights to attract the shrimp. The season runs from October through June and can be done from a boat, bridge or dock...this is definitely an activity worth experiencing!! If the waters of the Atlantic Ocean seem intriguing, you can experience the awesome deep-sea fishing for dolphin, blue marlin and wahoo to name a few.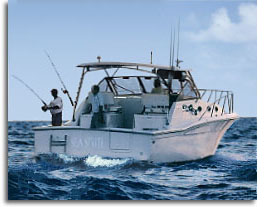 To assist you with all of your fishing, boating and shrimping needs, a new twelve hundred foot dock with 17 boat slips extends out into the Indian River for your use. Enjoy fishing, shrimping and crabbing from the dock and be amazed by the abundance of aquatic marine life you will observe in the surrounding waters Lighthouse Cove.